Scottish independence: One million Scots urged to sign 'yes' declaration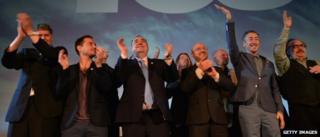 While it's true to say a trip to the cinema means the chance to see Hollywood film stars, they don't usually appear in person, right before your eyes.
But that's what happened at a multiplex in Scotland's capital city, where hundreds gathered for the premiere of the campaign to make Scotland an independent country.
A brief look at the day's offerings at the Edinburgh Cineworld revealed the new Sacha Baron-Cohen film, The Dictator, - showing at 11:00 in Screen Three.
At the the same time, over in Screen Seven, the "Yes Scotland" campaign was being launched ( although, the show did begin a little later than previously billed).
At such a riveting time in Scotland's history, the usual cinematic posters seemed to take on a new meaning - one for the new Ridley Scott film, Prometheus, declared in its tag line that "the search for our beginning could lead to our end".
But there was no exclusive Hollywood red carpet at this event - this was most definitely an indy production.
The "Yes" campaign, in which the Scottish National Party plays a leading role, is styling itself as an all-inclusive movement - a massive coming together of Scots from all types of communities who want to shape Scotland's future for themselves.
The event was hosted by Martin Compston, the Scots actor who shot to fame as a young teenager in Ken Loach's Sweet Sixteen, but who told assembled supporters and journalists that his support for independence went back much further than his career.
Then it was the turn of Mr Salmond, SNP leader and first minister of Scotland, who, perhaps unusually, took a co-starring role on the stage along with the Scottish Green MSP Patrick Harvie.
Mr Salmond, whose government is planning an independence referendum in autumn 2014, sought to drive home the message of the campaign: "Scotland's future in Scotland's hands".
Over on the other side of the stage, Mr Harvie, who had spent the previous 24 hours complaining about the SNP's apparent dominance of the Yes campaign, committed himself to the cause of independence.
Musical interlude
But he made it clear he wouldn't be sticking to the SNP script declaring, "Greens are not nationalists", but a party encompassing a range of voices.
And when you add together parties like the Greens and Scottish Socialists (who would see Scotland as an independent republic, rather than the SNP's vision where the Queen is retained as head of state) it serves to show how many different forms an independent Scotland could take.
Then there was a video message from actress Elaine C Smith (currently playing another famous Scot - singer Susan Boyle - in Cardiff) who expressed her belief that Scottish independence, while "not a magic pill", offered an end to problems like "grinding poverty".
Then it was the turn of Blair Jenkins, a former head of news at BBC Scotland, who, in declaring his backing for independence for the first time, said it was "a great day", adding: "There are better days to come."
Mr Jenkins was followed by a famous person, Scots actor Alan Cumming, star of James Bond and X-Men films, who is moving back to Scotland so he can vote in the referendum.
Cumming, who had campaigned for the return of a Scottish Parliament in the late 90s with tax-raising powers, under the "Yes, Yes" campaign said the message in this one had become even pithier - just a simple "Yes".
One by one, supporters of independence made their case before signing their names to the "Yes Declaration" which is at the heart of the campaign.
Then, following a musical interlude - featuring Dougie MacLean performing his timeless classic Caledonia - the launch moved on to some heavyweights from Scottish political life.
Those declaring their support for Scottish independence also included;
former RBS boss Sir George Mathewson
ex-Labour MP Dennis Canavan
Scots national poet Liz Lochhead
and Tommy Brennan, a prominent trade unionist during the controversial closure of the Ravenscraig steel works, in the early 90s.
The best was perhaps saved for last. Taking to the stage, Holywood star Brian Cox described himself as a "democratic socialist" before recalling how he had lost his sense of purpose as a Scot, only to begin regaining it as a young actor in London in the swinging 60s.
Cox, a former New Labour fan and star of many an action thriller, gave it to Tony Blair with the left barrel and Margaret Thatcher with the right - curious for an independence campaign trying to court people of all political hues.
He ended with the line: "Please, let's say 'yes'".
SNP show
The launch was short on substance, with the detailed debate planned in the months ahead.
And this may be a cross-party campaign, but the Cineworld event itself was very much an SNP show.
Getting the last word in, Mr Salmond surmised: "That was quite a launch - let's make sure it's quite a campaign."
One thing's for sure - with autumn 2014 still some way off, it's going to be a long campaign.
Only then will the world learn whether support for Scottish independence proves to be a blockbuster or a flop.