Scots secretary hopes Alex Salmond will attend future meetings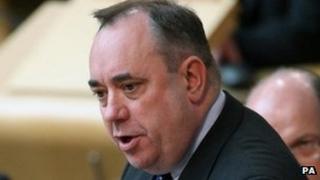 Scottish Secretary Michael Moore said he hoped Alex Salmond would attend future meetings of senior ministers from around the UK.
The remark was made after Scotland's first minister came under fire for not attending the Joint Ministerial Committee (JMC).
He was represented instead by two members of his cabinet.
The committee is made up of UK government ministers and those from the devolved administrations.
Mr Salmond attended instead the All Energy Conference in Aberdeen where he announced details of a multi-million pound fund to help develop Scotland's first commercial wave and tidal power ventures.
He was being represented by the Scottish government's Strategy Secretary, Bruce Crawford, and Public Health Minister, Michael Matheson.
The gathering, which was chaired by Deputy Prime Minister Nick Clegg, discussed proposed welfare reforms and the forthcoming London Olympics.
After the meeting, Mr Crawford said he and his colleague Mr Matheson had made a strong case about the UK government's welfare reforms, which the Scottish government opposes.
Following the get-together, coalition minister Mr Moore said the JMC would work best if all the first ministers of Wales, Northern Ireland and Scotland attended.
He added that he hoped Mr Salmond would turn up on a "consistent basis" for a "full and frank" exchange of views.
Mr Crawford later said the first minister was right to attend the energy meeting in Aberdeen where details were given about an £18m fund to turn prototype sea energy turbines into commercial power generators.
A spokesman for the first minister said Mr Salmond represented the Scottish government at every meeting of the JMC Plenary, which is held annually and chaired by Prime Minister David Cameron.