Plea to fix landslide-hit Rest and Be Thankful on A83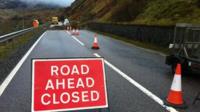 A group of councillors has made a plea to MSPs for major investment on a landslip-hit road.
Members for Argyll and Bute Council said a permanent solution to problems at the Rest and Be Thankful, on the A83, was needed.
As well as being a danger to the public, the issue has hit the local economy, they argued.
Transport Minister Keith Brown has already announced £1m of funding in a bid to prevent future incidents.
The route has been blocked by landslips in 2007, 2009, 2011 and again earlier this year.
At the end of February, up to 50 tonnes of material slipped down the hillside but did not reach the road.
Douglas Philand, a councillor with the Argyll First group, told the Scottish Parliament's petitions committee the constant threat of landslides meant extra fuel and other costs for haulage firms and other businesses.
Citing the case of West Coast Motors, which provides "lifeline" bus services between Glasgow and Campeltown, Mr Philand said: "The average fare is £8 - if they lose just one passenger per day on every journey, it adds up to £80 per day, or £500 per week.
"If you look at the figures of that one company, you have to multiply these numbers by tens of thousands of pounds (for others).
"It's not just the physical closure of the road, it's the impact that it has on our roads, on our tourists, on our produce coming in, our lifeline foods - things like shellfish, fresh fish from our fishing villages, - it's absolutely fundamental to get those out on time."
Journey times
Scottish government education secretary Mike Russell, who is also MSP for Argyll and Bute, told the committee that action had been taken to cope with problems on the road.
He told the committee: "Recent difficulties have emphasised the fact that this route needs to be upgraded to be fit for purpose."
A spokeswoman for government agency, Transport Scotland, said: "Several practical steps are already scheduled that should help reduce journey times and improve the road conditions for those travelling along the A83.
"Scottish ministers are obliged to keep the trunk road network under continual review, and will remain open to consideration of the issues involved in this petition."