Scottish council election: Labour is biggest party in Edinburgh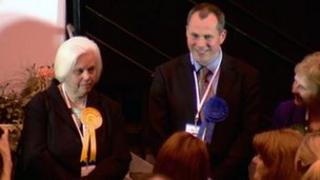 Labour has finished as the largest party on Edinburgh City Council as the authority's leader and 12 of her Lib Dem colleagues lost their seats.
Jenny Dawe was the party's biggest casualty as the Lib Dems were left with just three councillors.
Labour and the SNP both increased their tally by five, leaving them with 20 and 18 councillors respectively.
No party has overall control of the council, which had been run by a coalition between the Lib Dems and SNP.
The Conservatives retained their 11 seats in Edinburgh while the Greens gained three seats to reach a total of six.
In the Pentland Hills ward, the Lib Dem candidate came fourth behind Professor Pongoo - a climate activist who visits schools dressed as a penguin.
Jenny Dawe said the UK coalition had been a bigger factor in Lib Dem losses than local issues like the controversial trams project.
She lost in the Meadows/Morningside ward after finishing more than 400 votes behind new SNP councillor Sandy Howat.
Councillor Andrew Burns, the leader of the Labour group, said it had been a "fantastic result" for his party.
He said there were "a number of options" available when it came to forming an administration.
"We will take our time to ensure we deliver the best possible deal for the people of Edinburgh," he said.
"I am ruling nothing in and nothing out - all options remain on the table. My door is open to all party leaders and I hope to speak with each of them over the course of the weekend."
Midlothian Council is expected to be run by an SNP-led coalition, after the Nationalists and Labour each returned eight councillors.
BBC Scotland has learned the most likely coalition will be between the SNP and the 71-year-old Midlothian independent councillor Peter de Vink, who has said he would support any party which helped Labour lose.
Labour and the Lib Dems both lost two seats, while the SNP gained two. The other councillor elected was a member of the Green Party.
In East Lothian, Labour gained three seats to take their tally to 10, the SNP retained nine seats while the Lib Dems lost three and the Conservatives won one.
In West Lothian, Labour gained two seats to take their number to 16, while the SNP raised their number of councillors from 13 to 15. The Conservatives maintained their one councillor.
The results in Fife were good for Labour, who gained 11 new councillors to take their total to 35.
The SNP made some ground, increasing their representation on the council by four to 26.
The Lib Dems lost 11 councillors, with their total slumping to 10.
The Conservatives lost one seat and now have three councillors. UKIP councillor Mike Scott-Hayward lost his seat.
· All the latest election results are available at bbc.co.uk/vote2012