Lord McConnell asks Donald Trump for charity sponsorship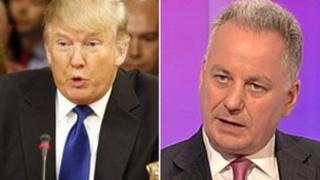 Former First Minister, Jack McConnell, has asked US property tycoon, Donald Trump, for a charitable donation.
The request has been made just days after Mr Trump told Holyrood he "felt betrayed" by Lord McConnell over a possible wind farm development near his Aberdeenshire golf resort.
Lord McConnell has suggested they put aside their differences and work together to "Trump poverty".
He has asked the American businessman to sponsor him in a charity challenge.
On Wednesday Mr Trump appeared before the Scottish Parliament's economy, energy and tourism committee, which is conducting an inquiry into whether the Scottish government can meet its green energy targets.
He claimed Lord McConnell "lured" him to invest in Scotland with private assurances there would be no wind power developments near his £1bn golf resort at Menie.
The former first minister has denied this.
In his letter to Mr Trump he said: "You and I clearly have different recollections of our conversations in 2006/2007 and I suspect it would not be helpful to go back over them again.
"But I have a proposal that may be attractive to you."
Lord McConnell is going to live on less than £1 a day for five days in May to raise funds for African aid projects and wants Mr Trump to sponsor him.
The letter went on: "It is my belief that we can and should put our differences aside and come to work together to address issues of poverty and disadvantage in the world.
"I am sure we can leverage both of our resources as privileged public figures to help improve the lives of those most under-privileged. As you might say, I hope I might have your support to help me 'Trump' poverty."
Lord McConnell said the money raised would be spent on projects helping woman and young people in Malawi and Swaziland.
The letter added: "Over 1.4 billion people live below the poverty line around the world, and nearly 22,000 children die every day due to preventable and treatable conditions.
"Their condition is surely more important than any disagreement about golf courses or windmills."