X doesn't mark the spot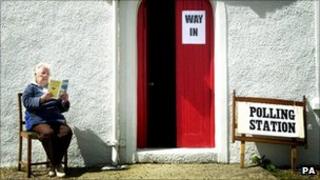 It is to be hoped that there will be minimal confusion caused by the guidance note issued by a local authority which provided an inaccurate illustration of how voters cast their choice in the council elections.
North Lanarkshire Council's pack for postal voters included a sample illustration with an X marking the spot - instead of the 1,2,3 required for the Single Transferable Vote used in local authority elections.
To be fair, council officials discovered this honest mistake - and have acted swiftly to rectify it by issuing an accurate version.
Which is good because voters need accurate information to foster their interest - and do not need anything which risks further deterring or distracting them.
The voting system is one reason why all the parties are being cautious in making forecasts, even privately. As billed here previously, it is difficult to assess the impact of multiple movements in political fortunes within a proportional system.
Another reason for caution is that, as was apparent out on the election trail today, these elections have yet to stir the public.
However, campaigners I spoke to today voiced a belief that potential voters with busy lives were - just - beginning to engage in a substantive fashion with the various contests across Scotland.
Which, most would feel, is also good. It is not for analysts and observers like me to encourage people to vote. That is an individual decision.
However, it is perhaps legitimate to note that there are consequences from not voting - not least of which is that your local authority continues to govern, but without your consent.
There are intriguing messages emerging as the parties and the campaigners seek your support.
The Tories and the Liberal Democrats are largely stressing their records in office in sundry councils across Scotland: the difference they have made.
The SNP are building upon the fact that they are in Holyrood power by arguing that Nationalist councillors can work well with the Scottish government to create a coherent strategy. For example, that is the message featured in their mini-manifesto on employment today.
By contrast, Labour is seeking to depict SNP councillors as compliant drones, taking orders from the centre.
In all, a remarkable mirror image of the previously prevailing narrative in Scotland - reflecting, of course, the change in political fortunes.