Scottish independence: Oil expert backs dedicated oil fund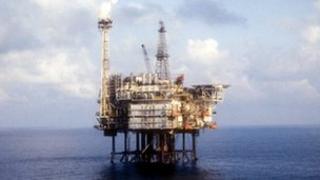 A leading oil industry expert has told MPs that he backs the creation of a dedicated oil fund.
Prof Alex Kemp spoke at the energy and climate change select committee session on what Scottish independence might mean for energy supplies.
The SNP government has repeatedly called for a fund for oil revenues to help provide resources for long term infrastructure investment.
The committee has also heard from Scottish Energy Minister Fergus Ewing.
Prof Kemp, an Aberdeen University academic, also told the MPs that the possibility of an independent Scotland could create "additional uncertainty" for North Sea oil and gas investment.
He said that the UK was already considered a "high risk" by investors because of surprise changes to the sector's tax regime over the past few years and independence would create added uncertainty.
But Mr Ewing denied that investors were being put off investing in the sector.
The SNP minister also suggested that the massive £30bn clean up costs of the North Sea in future would be the responsibility of the UK government after independence because it had accrued most of the revenues from oil during the sector's lifetime.
Mr Ewing told the committee that the UK government had a "moral and legal obligation" for decommissioning oil rigs.
Reacting to the session's evidence, Labour's Shadow Energy Minister Tom Greatrex said: "This intervention from Professor Kemp - an acknowledged academic expert in the field - adds significant weight to the growing calls for an early referendum."
Scottish Conservative leader Ruth Davidson said the suggestion on decommissioning costs was another example of First Minister Alex Salmond wanting power but "refusing to shoulder the responsibility" that comes with it.