Scottish council election: Greens hope to boost numbers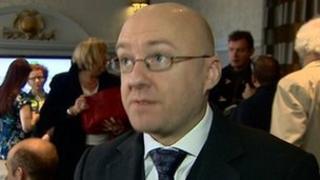 The Scottish Greens have launched their council election manifesto, saying they expect to see councillor numbers "swell" in the 3 May poll.
The party wants to see improvements in home insulation and a £7.20 "living wage" for council staff.
It wants about 10% of transport budgets to be focused on "active travel", like walking or cycling.
And the Greens want to see free bus travel extended to under-16s and 20mph zones to make streets safer.
The party, which has two MSPs, won its first Scottish council seats - in Glasgow and Edinburgh - at the last local government election.
To launch their manifesto Green MSPs Patrick Harvie and Alison Johnstone issued a joint statement, in keeping with the party's equality stance.
On the issue of councillors, they said: "We expect their numbers to swell in this election, with many more councils having a Green voice on them for the first time."
The party has issued a national manifesto, but said specific policies would be left to local groups.
The Greens also said they wanted to hand more powers to local councils and local communities, and to shake up taxation by bringing in a land-based levy.
The party said the Scottish government had put councils in a "straitjacket" by stripping them of powers to make decisions for their areas.