Scottish council election: Anti-cuts group in council drive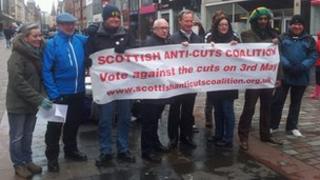 A group of trade unionists and community groups have come together to stand against cuts in the 3 May council elections.
The Scottish Anti-Cuts Coalition said it opposed all reductions in jobs, services and pay and conditions.
The group is fielding 37 candidates across nine council areas, including 12 in Glasgow.
The coalition also said it would fight for new council housing, jobs and training for young people.
It would also vote down all increases in council tax, rent, school meal charges and service charges put in place to compensate for cuts.
Brian Smith, of public sector union Unison, said: "The Scottish Anti-Cuts Coalition was set-up to offer an alternative to savage cuts and unending austerity.
"The need to stand anti-cuts candidates is clear and a recognition that all the main parties, including the SNP and Labour, are carrying out savage Tory driven cuts.
"It is essential that principled fighters be prepared to stand to offer an alternative."