Labour's Hugh Henry accuses Scots government of causing classroom crisis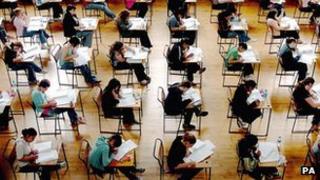 Scottish Labour's education spokesman has accused the Scottish government of causing a crisis in classrooms.
Hugh Henry told his party conference that ministers should delay curriculum for excellence exam reforms, amid concern from teachers and parents.
Mr Henry also attacked Education Secretary Mike Russell for presiding over "demoralising cuts".
The curriculum for excellence aims to give teachers more freedom and make lessons less prescriptive.
Scottish ministers said it would improve standards, but some teachers, unions and opposition parties said they were not ready to introduce the new national exams associated with it.
Attacking the government, Mr Henry told delegates in Dundee: "They have taken the widely praised curriculum for excellence and allowed a crisis to build in Scotland's schools.
"We have an arrogant and bull-headed cabinet secretary for education refusing to listen to teachers and parents about their fears and worries.
"Mr Russell knows best, Mr Russell is right and Mr Russell won't listen."
Mr Henry went on: "But he should listen.
"Listen not to his civil servants and directors who are far removed from the classroom, listen to what ordinary teachers are saying - they are not ready, the materials are not ready and they are worried that the exams will not be ready.
"And still Mike Russell will not listen. He wants to browbeat and bully teachers and parents."
The Labour MSP said: "If teachers feel that they are not ready, if parents have no confidence in the timetable, and if pupils will be adversely affected, then there is a compelling case for delay.
"That is why Scottish Labour is calling for a delay in Curriculum for Excellence. Schools which are not ready should not be forced to gamble with the future of our children."
Mr Henry, a former Scottish education minister, said his party had a "proud" history of delivering in education.
At the same time, he said, the SNP government had failed on commitments to reduce P1-P3 class, had cut 4,000 teaching jobs and slowed investment in school building.
Mr Henry also said Scottish colleges were facing cuts of more than £30m a year, adding: "With a youth unemployment crisis in this country, with older workers, particularly women, being thrown on the dole in large numbers, now more than ever is the time to invest in colleges."