Nicola Sturgeon targets unionists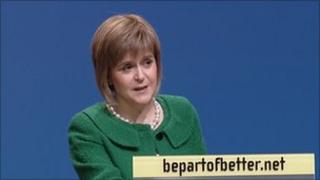 Interesting line in Nicola Sturgeon's conference speech today - one of many. Attention was divided between her announcements on health policy and her ultimate rallying declaration on independence.
Aside from those, I was struck by another brief section in which she noted the reluctance of Labour's Jim Murphy to share a platform with the Prime Minister in the referendum campaign, when it happens.
Ms Sturgeon said that Mr Murphy was "quite happy to let the same Tory Prime Minister keep the power to cut Scotland's budget."
It is a revisiting of a classic SNP argument - that of the mandate to govern Scotland. And it will be an element of the referendum campaign from the Nationalist perspective.
There has been much scrutiny of the proposed timing of the referendum. The First Minister says that it is deferred to the latter half of the present Parliamentary session at Holyrood because that was the promise made during the election campaign - which is true.
But, of course, that pledge was delivered for a reason: a strategic calculation that the people of Scotland would prefer a primary focus upon the economy. Or, put another way, that the economic circumstances may not be particularly propitious for offering independence following Mr Salmond's precept that Scots will opt for his party's agenda when they are feeling confident about themselves and their prospects.
But the timing also coincides with the next UK election in 2015 - or the run-up. SNP strategists calculate that, by then, two things will have happened: that they will have been able to sustain their own popularity and that the prospect of an unalloyed Conservative UK Government will be on the horizon on the expectation that the Liberal Democrats continue to struggle and Labour falls short of mounting a challenge.
Hence the stress, now, upon the powers presently residing with a "Tory Prime Minister".