New funding to help creative young Scots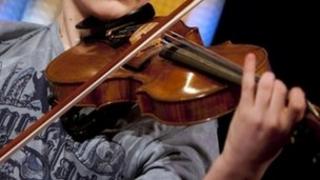 Two new centres will be established in Scotland to help the country's young people realise their creative potential.
Culture Secretary Fiona Hyslop told SNP conference delegates about the plan.
The Young Scots Fund will put £3m into the National Conservation Centre, based in Stirling, to train young people in "traditional building skills".
In addition, £5m will be given to the National Centre for Youth Arts, based in Glasgow.
It will provide rehearsal and production facilities for companies such as the National Youth Orchestra of Scotland, the National Youth Choirs and youth dance agency Y Dance.
Ms Hyslop said: "Scotland is a creative nation, and we want our young people to be the best they can be. Developing and nurturing their skills and creativity is crucial for the country's economic future.
"To allow our young people to realise their potential, it is vital that we celebrate our emerging youth talent and provide opportunities for it to flourish.
"That is what our Young Scots Fund will do. Over the next four years it will provide £50m of support, focused on developing the potential of our youngsters in sport, enterprise and creativity.
"The new National Centre for Youth Arts will be a fantastic resource for young creative talent, while our investment in the National Conservation Centre will help sustain and develop the traditional building skills needed to secure the future of Scotland's historic environment. It is also part of our strategy to halt the loss of such skills and expertise."
The National Conservation Centre is a project involving Historic Scotland, Stirling Council and Forth Valley College.
One of its sites will be in a former railway engine shed in Forthside, Stirling, from 2014.
The other will be in a new stone masonry training centre in the new Kildean campus of Forth Valley College and is expected to open in August 2012.
Creative Scotland will work with the Royal Conservatoire of Scotland and the national youth companies to develop plans for the National Centre for Youth Arts.