Scottish universities appear in world's elite top 200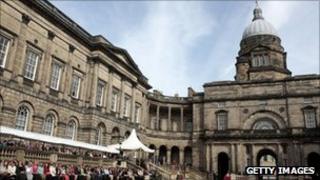 Five Scottish universities have been placed in the top 200 of the world's higher education institutions.
The University of Edinburgh was ranked 36th in the 2011/12 list, with St Andrews at 85th, Glasgow at 102nd, Aberdeen at 151st and Dundee at 176th.
The California Institute of Technology took first place - and the highest in the UK was Oxford in fourth.
The world rankings are produced each year by the Times Higher Education magazine with Thomson Reuters.
They consider teaching, research, citations in other research, industry income, and international outlook, putting the US as the biggest player in higher education, followed by the UK.
There are 32 UK universities in this top 200, an increase on last year - although the number of UK institutions has fallen in the top 100.
Universities Minister David Willetts said the list showed that relative to its size, the UK's university system was the "world's best-performing".
The University of Edinburgh, the highest ranking in Scotland with 72 points, improved its position from 40th last year, when it scored 69.2 points.
The University of St Andrews moved up from 103rd place in 2010/11 and the University of Glasgow improved its ranking from 128. The university of Aberdeen's place was relatively stable having moved only two places from 149th last year.
The University of Dundee was the only Scottish university to move down the table having been ranked 140th last year with 52.2 points compared to this year's 44.5 points.
The University of Stirling also appeared in the "best of the rest" top 400, appearing in the 301 to 350 banded list.
There are many different university rankings published - none of them are "official" tables - and they are not based on results in the way that school league tables are based on exam results.
And there are wide variations in these rankings, depending on the type of criteria that are used as measurements.
Although university leaders have sometimes been sceptical about such rankings, they have become more important for marketing purposes, particularly when recruiting overseas students.
Times Higher Education editor Phil Baty said: "I think it's an extraordinary achievement.
"The top 200 really represents about 1% of the world's entire higher education sector so to have one or two in there is remarkable.
"Scotland has more universities in the 200 than France, for example, so it's a tremendous achievement."
The umbrella body Universities Scotland described the study's performance indicators as "robust".