Scottish election: Scottish Christian Party profile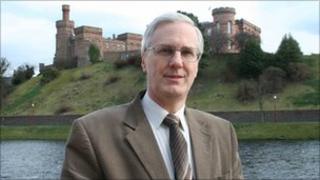 The Christian Party "Proclaiming Christ's Lordship" was registered with The Electoral Commission in April 2004, and is known in Scotland as the Scottish Christian Party.
It originated from Operation Christian Vote, which was formed in London by the Reverend George Hargreaves.
Operation Christian Vote contested the European election in Scotland in 2004 and achieved 1.8% of the vote. It changed its name to the Christian Party the following year.
The Scottish Christian Party won less than 1% of the vote in the 2007 Scottish election. This rose to 1.5% in the 2009 European elections.
At the end of last year, Dr Donald Boyd was appointed leader.
He had been the Highlands and Islands campaign manager in 2007 when the party first ran for the Scottish Parliament.
Dr Boyd, who is also standing in the Inverness and Nairn constituency, believes the Highland and Islands region is where the Scottish Christian Party has its biggest chance of returning its first MSP.
The party's manifesto backs the integration of Scotland's infrastructure "instead of concentrating only on central belt issues." It said its transport policy would capitalise on growing renewable energy programmes in the north and west Highlands.
The SCP also supports small government, free university tuition and opposes the centralisation of police and fire services. It also proposes that governing parties be forbidden to legislate contrary to their most recent manifesto.
It has been criticised in the past over its stance on homosexuality, which it regards as a sin.
Its manifesto advocates the reinstatement of Section 28 and a revision of what it calls "unequal equalities legislation", which it says places religious conscientious objection lower down the pecking order than gay rights.
The party says this "threatens bed and breakfast establishments" in Scotland.
Its 37 candidates are standing in all eight regions of Scotland.
Christian People's Alliance
A separate Christian party, the Scottish Christian People's Alliance, is standing four candidates in two regions, the Lothians and Mid Scotland and Fife.
It was formed in 1999 by Christians within the main parties who were dissatisfied by the rise of secularism. It says its focus is tackling poverty and homelessness.
Unlike the Scottish Christian Party, it opposes the renewal of Trident.