Scottish election: Parties enter third week of campaign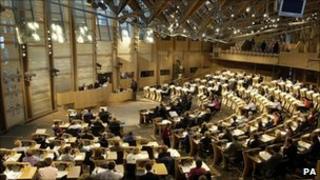 Scotland's political parties continued campaigning for votes as the third week of electioneering for Holyrood began.
The SNP's leader Alex Salmond was in the Highlands where his party hopes to takes seats from the Liberal Democrats.
Scottish Labour leader Iain Gray visited Whitelee Wind Farm in East Renfrewshire.
And the Scottish Conservative Party's Annabel Goldie was the first of the main party leaders to launch their manifesto.
She pledged to help create businesses and jobs but also gave commitments to introducing a graduate contribution of up to £4,000 per year to fund universities.
During the Whitelee visit, Mr Gray said his party's plans for the renewables sector would create hundreds of skilled jobs in Scotland.
He said: "At a time when unemployment in Scotland is high these jobs will be vital for the economy."
Local people
Mr Salmond visited a number of Highland constituencies to campaign about fuel prices.
He said: "The SNP knows that the price of fuel is a key issue affecting people and businesses in the Highlands. A 1p cut to fuel duty makes little difference in rural communities."
And the Scottish Liberal Democrat leader Tavish Scott was campaigning in Edinburgh alongside the party's local candidate Mike Pringle.
He was arguing against plans for a single Scotland-wide police force, claiming it was too expensive and would take power away from local people.
Meanwhile, the UK Independence Party also launched its Scottish election manifesto in Edinburgh.
It said it would keep the Scottish Parliament in Edinburgh but "replace MSPs with Scottish Westminster MPs".
The party will be fielding 29 candidates at the poll on 5 May.