Mining market impacts on Weir profits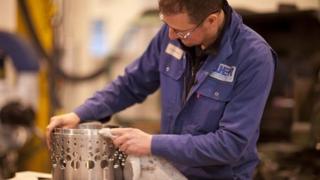 Engineering firm Weir Group has said challenging conditions in its mining market has impacted on half year results.
The company saw a 5% drop in revenue to £1.1bn with profits down 6% to £182m.
However the group's chief executive Keith Cochrane said profits were impacted by currency movements and underlying profits were up 7%.
He added that order growth increased by 10% and there was a "good level of momentum right across our business".
Glasgow-based Weir sells pumps and valves for the mining and oil and gas industries and employs about 15,000 people in 70 countries.
Mr Cochrane said the benefits of the company's diverse portfolio were evident.
He said: "Double digit growth in Oil & Gas was partially offset by challenging mining end market conditions and the impacts of prolonged industrial action in South Africa."
He said the company anticipated strong growth in the second half of 2014.
Weir Group recently dropped an attempt to take over Metso Corporation after the Finnish engineering firm rebuffed a second approach.
The firm's latest results reveal that this cost it £2m.