Scottish hotels led the UK for revenue in February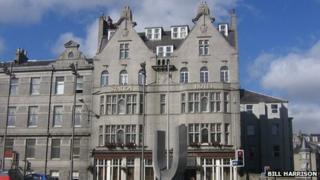 Scotland's hotels had the highest occupancy and revenue levels in the UK during February, figures have shown.
Occupancy was up to 70.3% compared with 69.8% in England and 69.1% in Wales.
The average amount of revenue from each room was £45.65 compared with £39.93 in England and £37.20 in Wales.
Aberdeen was ahead of anywhere outside London at £70.63, with Edinburgh at £46.80 and Glasgow on £45.21. Alastair Rae of business advisers BDO LLP said: "These are very positive figures."
Occupancy was highest in Glasgow at 76.0%, followed by 75.7% in Aberdeen, 68.4% in Edinburgh and 66.3% in Inverness.
'Bumper summer'
Mr Rae added: "The increase is really quite impressive for a time of year which can be relatively quiet.
"Aberdeen continues to roar ahead. The granite city is booming on the back of the oil and gas sector."
The staging of the Ryder Cup and Commonwealth Games is expected to boost the Scottish figures further.
Mr Rae said: "With Scotland expecting a bumper summer season due to the various world-class sporting events taking place, this could be the start of a great year for the hospitality sector.
"What now seems clear is that we have turned a corner.
"Much of the doom and gloom which the hotel sector and the economy was facing in recent years is clearing and better times are on the horizon."