Scottish tourism: Overseas visitor numbers up by 10%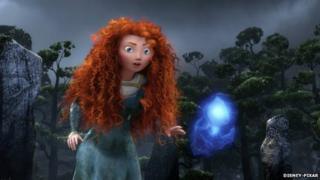 Scotland's tourism industry was lifted last year by a 10% increase in overseas visits and a 20% rise in spending, according to new figures.
Data from the Office for National Statistics showed overseas visits rose from about 2.2 million in 2012 to just over 2.4 million.
Spending by tourists from abroad was also up, rising from £1.4bn to £1.7bn.
However, figures from the Great Britain Tourism Survey showed a 4.9% fall in domestic visits in 2013.
Spending was also down slightly by 0.1%.
'Very encouraging'
Mike Cantlay, chairman of tourism agency VisitScotland, described the results were "very encouraging".
He said: "The growth in our international markets is superb, in both visits and expenditure, and illustrates increasing confidence within global markets.
"In particular, these results point to the success of our international marketing campaigns such as Meet the Scots and VisitScotland's partnership with Disney surrounding the movie Brave.
"Crucial to our success has been attracting more direct flights than ever before to our airports across Scotland. That ease of access and improved air connectivity has been key."
'Action-packed' summer
Mr Cantlay said domestic visits had been affected by a decrease in people visiting friends and family, but there had been an increase in those heading to rural areas for their holidays.
"As we move into an action-packed summer for Scotland with the Commonwealth Games, the Ryder Cup and a staggering 830 events under the Homecoming Programme, Scotland is in a perfect position to exploit tourism as a key driver of the Scottish economy," he added.
Tourism minister Fergus Ewing said: "These encouraging figures illustrate the demand from long-haul tourists for holidaying in Scotland.
"The rises in expenditure suggest that Scotland is, as a destination, offering quality experiences and visitors are prepared to spend their money in our hotels, tourism attractions and restaurants as a result.
"This success is also due to the warmth of welcome of the people who work in the tourism industry."
He added: "Their drive and commitment is delivering results and helping to provide a memorable visitor experience for our guests."
Earlier this month, a study by Barclays suggested Scotland was in line for a tourism boom, with the number of overseas visitors rising faster than the UK average
It predicted spending by visitors from overseas will rise by 40% by 2017.
Tourists from the US are expected to remain the biggest spenders, ahead of those from Germany and France.
By 2017, Scotland is predicted to earn a total of £2.3bn a year from overseas tourism.