Scots hotel market 'consistently improving', says survey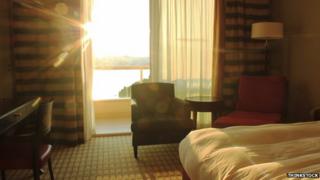 Scottish hotels enjoyed a bright start to the year with the market "consistently improving" according to a report.
A study by business advisers BDO showed that hotels in Scotland enjoyed higher revenue levels in January than their UK counterparts.
The survey involved hotels in the three to four star range across the UK.
Experts believe the figures are being driven by people's increasing confidence in the economy.
The firm's monthly hotel survey found that industry standard revenue from Scottish hotel rooms was £35.25 compared with £31.44 in England and £23.76 in Wales.
Revenue was highest in Aberdeen in the UK outside London with an average rate of £58.96. This rate dropped to £35.85 in Edinburgh and £34.90 in Glasgow.
Aberdeen also reported the highest occupancy rate with 64.7% followed by Glasgow on 63.8%, Edinburgh with 58.5% and Inverness at 55.7%
The occupancy figures from across Scotland's hotels give the country an average rate of 56.7%
This rate remained close to the average across the rest of the UK with English hotels reporting 57% occupancy and Wales with 53.6%.
'Star performer'
Alastair Rae, a partner in BDO, said: "The first figures of 2014 clearly indicate that the hotel sector is continuing to experience growth.
"The star performer remains Aberdeen where revenue exceeded everywhere outside London in the UK by some considerable way.
"With the wider economy predicted to rise during the rest of the year I would expect Scotland's hospitality sector to improve as consumer confidence returns, and both business and leisure customers begin to travel more."
Mr Rae concluded: "It is still early days in the recovery but there are clear signs that the hotel sector is consistently improving month on month and that this coming year is likely to see a greatly improved marketplace."