Wood Group of Aberdeen wins £7.2m Texas contract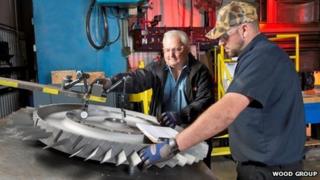 Energy services firm Wood Group has signed a $12m (£7.2m) operations and maintenance contract for a new US electric generation facility.
Under the terms of the three-year deal, Aberdeen-based Wood Group GTS will provide services for the Apex Bethel Energy Center when it begins commercial operation in 2017.
Construction of the plant in East Texas is due to begin soon.
The facility will utilise compressed air energy storage (CAES) technology.
The Apex deal is the latest in a series of recent US contract wins by Wood Group GTS, which specialises in rotating equipment services.
Earlier this month, the division completed two steam turbine major inspections and secured contracts to provide services for three other turbines from five different US power plants.
Together, the deals will be worth a total of $4.2m (£2.5m).
In January, it was awarded a long-term contract by Rockland Capital to provide maintenance services for two gas turbines in New Jersey.
Parent company Wood Group employs about 43,000 people in more than 50 countries.