Hitachi seals £2.7bn train-building deal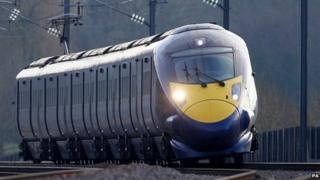 Japanese firm Hitachi has secured £2.7bn of funding for its contract to bring new high-speed trains to a key route between London and Edinburgh.
The UK government announced that nearly 500 carriages for the East Coast line will be built at Hitachi Rail Europe's factory in Newton Aycliffe, County Durham.
A total of 730 jobs will be created under the contract.
The Class 800 trains will start running on the East Coast line in 2018.
Hitachi is also building 369 carriages to run on the Great Western line from 2017 under a funding agreement reached in 2012.
The announcement comes a month after Hitachi announced its plans to move its global rail headquarters to the UK.
The contract to deliver the carriages was agreed with Agility Trains, a consortium of Hitachi Rail Europe and John Laing.
It completes the last tranche of funding for the UK government's £5.7bn Intercity Express Programme (IEP), which is designed to replace old diesel and electric trains.
As far back as February 2009, the then Labour government announced that Hitachi-led consortium Agility Trains was the preferred bidder for the IEP.
But a series of difficulties meant that the final contract-award decision was delayed for some time.
'Significant benefits'
The government said the new trains would provide significant benefits to passengers, with 19% more seats on each train and reduced journey times between Edinburgh, London, Leeds and Newcastle by up to 15 minutes.
Alistair Dormer, Hitachi's global rail chief executive, said: "This is an important milestone in the delivery of Class 800 series trains for the East Coast line.
"Hitachi Rail has been working closely with the Department for Transport, train operators and passenger groups to design the new trains.
"We are delighted that the success of the programme to date has attracted interest by world-class financiers and we look forward to building these trains in our new manufacturing plant in County Durham."
Transport Secretary Patrick McLoughlin said: "These new trains will transform rail travel between many of the great towns and cities of England and Scotland.
"This deal is further proof that our long-term economic plans are on track, creating jobs and breathing new life into the UK's train-building industry."