Pensions firm Aegon UK reports lower profits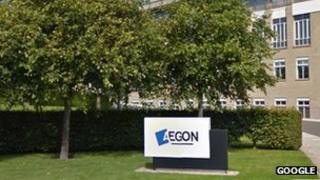 Edinburgh life and pensions firm Aegon has reported a drop in profits due to increased spending in new technology.
The company made an underlying profit in the fourth quarter of £18m - an 18% drop compared to the same time in 2012.
Aegon said it had invested £7m in new technology, including an online service for customers who do not have a financial adviser.
Total new life sales fell by 28% to £179m, but the group said this was a return to normal levels.
It said there had been exceptionally high sales in 2012 and that accounted for the fall.
The chief executive of Aegon UK, said: "This year we will launch a technology based solution for the non-advised market, which will then be offered to our adviser partners so they can provide a solution that best meets their customer's needs while also fitting with their post RDR business model.
"Aegon's ambition is to get the UK ready for retirement and we believe we can help to cover the pensions gap by offering customers simple, rewarding and reassuring digital solutions that will help them towards the retirement they want."
The company, which is part of the Dutch insurer Aegon, said it had completed recruiting 200 new employees at its Edinburgh headquarters during the final three months of last year.