Scottish shops report rise in sales during January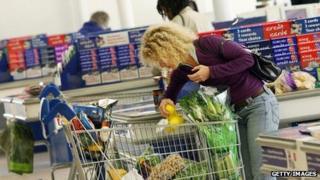 Shops in Scotland have reported a "strong start" to trading in 2014.
The headline figure for all sales in January was 4.3% higher than it was for January 2013.
Sales growth in Scotland has broadly followed trends throughout the UK, although growth in the rest of the UK was slightly higher in January.
The Scottish Retail Consortium, which produces the figures in association with KPMG, said retailers would "take heart" from the results.
The growth in non-food sales, at 7%, was much higher than the 1% growth recorded for food items.
Like-for-like sales, a figure which strips out the effect of outlets expanding or contracting their floor space, were up by 2.5% overall year-on-year.
Strongly-selling items included clothing and electrical goods.
Scottish Retail Consortium director David Lonsdale said: "Scottish retailers will take heart from these sales figures, which represent a strong start to the year.
"They build on a generally positive 2013 and compensate significantly for the slightly poorer sales we reported in December 2013.
"Particularly strong results were seen in clothing, furniture and other non-food items such as electricals."
The commentary published with the Scottish Retail Sales Monitor points out that temperatures for Scotland in January were above average, with little snow in the major centres of population.
Mild weather
David McCorquodale, head of retail at KPMG, said: "Retailers in Scotland will have breathed a sigh of relief throughout January as the snow stayed away and consumers had the confidence to spend.
"While some of the growth in non-food has been achieved in the sales at reduced margins, there will be retailers who feel they've begun to move the dial in recovery terms.
"Drivers of growth have been clothing and footwear, particularly in the sales, and the continued march of electricals. However, the relief is perhaps best felt in furniture and flooring where house price growth has fuelled spending."
On the lower figure for food sales, Mr McCorquodale added: "Growth in food sales remained challenging as the grocers battle for market share and consumers show less loyalty as they exercise their personal austerity around necessities. This sector will remain competitive for some time."