Six Nations 'worth £52m a year' to Scottish economy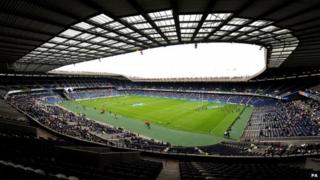 The Six Nations rugby tournament is worth about £52m a year to Scotland, economists have estimated.
Edinburgh's bars, restaurants, hotels and shops benefit when rugby fans head for matches at Murrayfield stadium.
Economists at the Royal Bank of Scotland, which sponsors the Six Nations, say the Scottish capital's economy alone has a boost from the tournament of about £30m a year.
That extra spending generates the equivalent of 430 Scottish jobs.
Across all six nations - in Britain, France, Ireland and Italy - RBS believes spending to total £375m.
Friends and family
In Edinburgh alone, RBS has estimated that occupancy rates in hotels jump by almost a quarter.
It also believes that fans are likely to spend as much as £9m in Scotland's bars and restaurants, £6m on hotels and other accommodation and £3m in shops.
Of the 430 jobs generated in Scotland, 310 result from spending by spectators and their friends and family who come to Edinburgh but do not attend matches.
The Murrayfield games attracted a total television audience of 19 million last year, with the England v Scotland match reaching an audience of 8.7 million.
The competition also attracts revenue from sponsorship and media rights which generate additional economic benefits.
Stephen Boyle, head of RBS Economics, said: "The RBS Six Nations is more than just a tournament with 15 games of rugby. The boost to the economy and the local businesses is very real, especially during what is usually a quiet time in the tourist season."