Scottish economy: Manufactured exports fall by 2.2%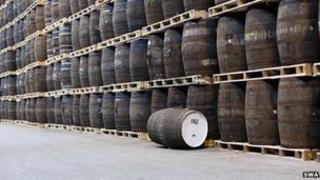 Manufactured exports from Scotland fell in the third quarter of last year, according to official estimates.
The volume of exports dropped by 2.2% on the previous quarter and were down nearly 1% over the year to September.
The whisky-dominated drinks sector performed more weakly than expected, falling by 8.3%, while engineering products and chemicals exports also fell.
Food exports continued to make a positive contribution, expanding 0.9%.
The overall real-terms fall of 2.2% contrasted with an increase of 3.3% in the previous quarter, according to the Scottish Index of Manufactured Exports.
Manufacturing sectors which enjoyed a second consecutive quarter of positive export growth included textiles, clothing and leather (+16.2%) and metals and metal products (+16.2%).
Comparing the most recent four quarters to the previous four quarters, there was a decline in export volumes across all sectors with the exception of food and drink and metals and metal products.
Last week, the Bank of Scotland's Purchasing Managers' Index (PMI) report indicated a dip in new export orders at manufacturers for December.
Some firms attributed the drop to a strengthening of the pound against the currencies of key client markets.