Whyte & Mackay owners United Spirits in sale move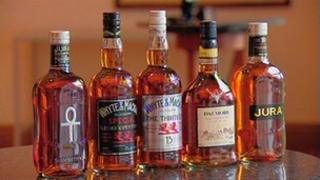 The Indian owner of Whyte & Mackay has said it is exploring the potential sale of the Scotch whisky firm.
United Spirits Group has informed the Bangalore Stock Exchange that it is looking for a buyer.
The move follows a deal to take over United Spirits by drinks giant Diageo in 2012.
The Office of Fair Trading in the UK is considering an offer by Diageo to sell most of the Whyte & Mackay business to address competition concerns.
Diageo has been trying to increase its minority stake in United, but last month an Indian court annulled a deal which would have given Diageo more than 53% of the Indian company.
In a statement to the Bangalore Stock Exchange, United Spirits said: "The board proposes to initiate a process, based on the outline timetable provided under UK law in connection with the decision of the Office of Fair Trading, to explore a potential sale of W&M (Whyte & Mackay).
"The board has nominated certain persons to oversee the process and consider, examine and evaluate possibilities and structures in relation to a possible sale, appoint necessary advisors in this regard and identify potential purchasers.
"The board will, after completion of the process, consider and decide upon any sale, and we will make further announcements when the appropriate decisions are made."
According to accounts filed this week with Companies House, Whyte & Mackay saw turnover and profits soar last year.
Turnover for the 12 months to the end of March 2013 climbed from just under £230m to £277m, while profits almost doubled to £29.5m.