Scotch whisky industry wants alcohol duty escalator scrapped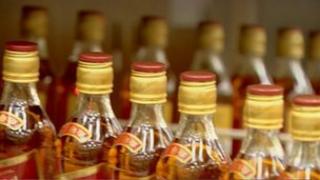 The Scotch Whisky Association (SWA) has urged the UK government to abolish the automatic annual increase in duty on wines and spirits.
The industry body is fronting a campaign to encourage consumers to raise the issue with their MPs.
It said the alcohol duty escalator was damaging the domestic market and punishing consumers when household budgets are tight.
The Treasury said 90% of Scotch whisky was exported and unaffected by UK duty.
The alcohol duty escalator - which goes up by inflation plus 2% each year - was abolished for beer in the Chancellor's last Budget.
But it still exists for wine and spirits.
The SWA is part of the wider "Call Time on Duty" campaign being launched by Wine and Spirit Trade Association, with the support of the Taxpayers Alliance.
'Penalises consumers'
The whisky industry body claimed Scotch sales in the UK had declined by 12% since the introduction of the escalator five years ago.
It said UK sales volume dropped from 102 million bottles of Scotch whisky in 2007 to 90 million bottles in 2012.
Gavin Hewitt, SWA chief executive, said: "Our message is clear - it is time to be fair to consumers and the Scotch whisky industry.
"Tax at almost 80% on the price of a bottle of Scotch whisky is unjustifiable. It penalises consumers. It also harshly treats the Scotch whisky industry which is vital to the UK's export performance.
"The UK is near the top of the league table in taxing alcohol. This sends the wrong message to overseas governments when they consider their tax treatment of Scotch whisky imports."
Responding to the campaign, the UK Treasury said it supported the whisky industry in several ways.
A spokesman added: "Scotch whisky is a geographically protected product, and HMRC are working with the industry on the verification regime which will help protect the industry's deservedly high reputation.
"Scotch whisky also featured as one of the first products in the GREAT campaign, giving whisky high visibility internationally in key markets.
"However, it is important to note that over 90% of Scotch whisky is exported and therefore unaffected by the UK alcohol duty regime."