The other end of the London airport bottleneck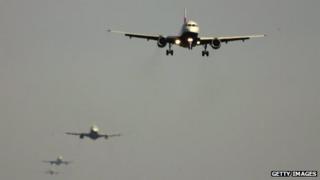 Airports are, in equal measure, about those arriving as much as those departing.
So the future of aviation in south-east England is not just about London. It's is important to those who also need to route their journeys through the metropolis's airports.
That's not just those from Scotland and Northern Ireland leaving for the sun, or for business elsewhere. They often have other options.
No, it's also about attracting some of the huge passenger traffic passing through Heathrow to ensure it gets on a north-bound plane for business or tourism, and that it finds a competitive range of times and prices to do so.
The squeeze on Heathrow capacity, particularly with the departure of BMI, is reducing that range of options and that competition.
The politics is very much about London, of course. Living next to an airport as big as Heathrow is rather noisy, and a third runway would make it noisier.
However, Sir Howard Davies' review has included one element that seeks to assess the state of aircraft noise, and how much design changes are helping reduce the cacophony below the flight path.
Distorted competition
Although it's described as a UK review, there are only a few elements of this interim review that also reflect on the interests of the rest of the UK.
For instance, it considers the idea of devolving Air Passenger Duty (APD), saying it would have a distorting effect. The Scottish government wants control of that, with the aim of cutting it in half and eventual abolition.
The interim report concludes: "Devolving APD would do little to incentivise better use of existing capacity at regional airports in England, and could potentially distort competition between proximate airports on either side of a border, such as Bristol and Cardiff, or Newcastle and Edinburgh.
"Regional variations in APD could potentially give rise to perverse incentives, for example to not use spare capacity in London and the south-east, as currently exists at Stansted and Luton."
A congestion charge on aviation in the south-east is briefly considered, with some analysis showing that could displace flights mainly to Luton and Birmingham. But it would have a "mildly negative effect" over time.
Another suggestion put to the review was to open up RAF Northolt to civilian traffic, allowing domestic UK links, as it's handy for Heathrow and not heavily used by the military. With ground transport links constrained, it's not seen as "realistic".
And what about the government or its regulator intervening in the allocation of slots, so that Heathrow's capacity is deployed in "the national interest". Or how about public service obligations? Neither idea flies with Sir Howard.
Glasgow rail row
There is a small amount of advice that treads in the minefield of Scottish politics, in that it says ground transport around Glasgow Airport needs improved. Buses would be a start: "However, looking beyond this, the Scottish Executive should work with Network Rail and other stakeholders to explore other options, including light-rail options."
Plans for a Glasgow Airport Rail Link, or GARL, were scrapped by the SNP government in 2009. Labour-controlled Glasgow Council has used the report to reopen that dispute.
Council leader Gordon Matheson responded to the Davies review by saying: "Recent land sales only serve to highlight just how determined this (Scottish) government is to scupper any attempts to revive plans for a rail link to Glasgow Airport.
"The commission's recommendation only reinforces what everyone already knows: public transport links to the airport need to be improved if Glasgow is to build on its position as a major European city."
The response? Transport Scotland says it's been working with Glasgow Airport and local councils on ground links. A detailed appraisal is under way, with a final report expected early next year.
London weighting
The big aviation picture from Sir Howard's interim review is of the competition from airports a lot more distant than the European continent. It points out the only mention of Dubai in a 2003 government white paper on aviation was its new link, at that time, with Glasgow. Now, as planes get longer haul, the Emirates hub is a serious competitor to London, and Heathrow in particular.
Also since that time, the industry has seen a rapid growth in low-fare airlines flying between cheaper airports, driven by Ryanair and Easyjet, which aren't big players in the big London hubs.
And it's noted that point-to-point flights for Britain's regional airports have grown significantly. One million passengers link directly with Africa each year, without having to go through London. Emirates, Etihad and Turkish airlines are now flying highly successful routes into airports in Scotland and the north of England.
But it's also noted that trade is supported by capacity, and that there's some evidence that capacity helps build trade. It's reckoned, in research for the UK government, that the average plane flying to a BRIC country - Brazil, Russia, India or China - carries £400,000 in exported goods. To China, it's £1m.
Aviation is up against environmental considerations as well as the protests of airports' neighbours. But it's also seen as a vital interest for the economy.
And Sir Howard Davies has some work, by the time of the final report, if he's to use his report as a tool for one of the bigger challenges facing public policy - how to rebalance Britain's bias to London.