Scottish economic growth 'eases', says Bank of Scotland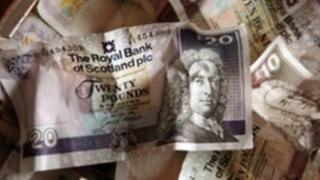 The pace of growth in Scotland's private sector eased last month, according to a survey of purchasing managers.
The Bank of Scotland's latest PMI report showed the slowest rises in output and new work for six months.
However, the rate of job creation was little-changed from the "solid pace" reported in October.
The bank said it suggested service providers and manufacturers were showing "confidence for the future".
The Bank of Scotland PMI - which tracks growth in the manufacturing and services sectors - slipped to a six-month low of 55.2 in November.
However, any reading above 50 indicates expansion.
The index suggested business activity continued to rise in Scotland's private sector.
But the pace of growth eased further from peaks seen in August and September, and was "notably slower" than the UK average.
Manufacturing output
At the sector level, the survey indicated manufacturing output stagnated in November, having previously risen for seven straight months.
Growth of business activity at services firms remained solid but was the slowest since July.
New work also increased at the slowest rate for six months in November, with respondents in the manufacturing sector reporting a slight reduction in new export orders.
Service sector companies attributed the rise in new business to improved market demand, increased marketing activity and new product launches.
A solid rate of job creation was maintained into November, marking the 12th successive monthly rise in private sector employment north of the border.
Both manufacturers and service providers added more staff during the month.
Survey data also indicated a rise in cost pressures facing Scottish businesses, with the rate of input price inflation edging up to an eight-month high. Despite this, output prices were up only marginally on October.