Scottish Salmon Company sees sales fall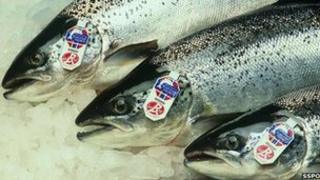 The Scottish Salmon Company (SCC) has reported a dip in sales but said 2013 is likely to end up a better year than 2012.
In the three months to the end of September, the firm had revenues of £18.4m compared with £21.5m in 2012.
Harvest volumes during the period were 4,531 tonnes - almost 2,000 tonnes lower than the previous year.
The company operates 55 sites in the Highlands, Hebrides and Argyll and employs about 400 people.
SSC said the lower volumes harvested during the period were partly down to last year's Amoebic Gill Disease (AGD) which also pushed up costs.
Craig Anderson, managing director of SSC, said the global outlook for salmon remained positive.
He added: "There continues to be strong demand and the expectation is that prices will remain firm.
"Analysts continue to forecast strong demand for fresh salmon boosting price expectations over the next couple of years.
"Reports continue to show increased consumption with the global traded price for salmon anticipated to remain firm."