Scottish shops report 'tentative boost' in sales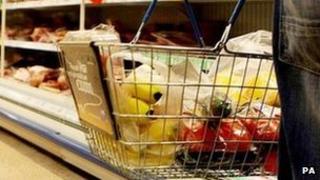 Scottish retailers have reported a "tentative boost" in sales ahead of the crucial festive period.
Total sales increased by 2.1% in October, compared with the same period last year.
The improvement was led by food sales, which rose by 3%, while non-food revenues increased by 1.3% on a year earlier.
Growth was lower in Scotland than in the UK, according to the Scottish Retail Consortium (SRC)/KPMG figures.
Taking account of shop price deflation, October total sales in Scotland were up 2.5% in real terms.
The month was an improvement on September's figures, which indicated trading in Scotland's shops was "subdued".
Retailers said non-food sales in October were mainly affected by reasonable weather which subdued demand for warmer clothing and footwear until later in the month.
'Feeling the squeeze'
SRC director Fiona Moriarty said: "These figures show that there's all to play for as Christmas approaches.
"It's reassuring to see a partial pick-up in growth after a disappointing slowdown in the previous month, but it's clear that many households are still feeling the squeeze and keen to keep some money aside for seasonal spending closer to December."
She added: "Overall this is an acceptable result which tallies with the relatively stable consumer confidence levels of the last few months.
"Retailers will be hoping that this very tentative boost gains some momentum as many of us start thinking about making some headway on our Christmas lists."
KPMG head of retail David McCorquodale described October as "a cautious month on the Scottish high streets with honours even between the consumer and the retailer".
He added: "With little more than six weeks until Christmas, retailers' festive campaigns are now in full swing.
"They need the weather to cool and confidence to burgeon to encourage shoppers to spend and give Christmas 2013 that much needed feel-good factor."