Scottish house price 'reality gap' narrows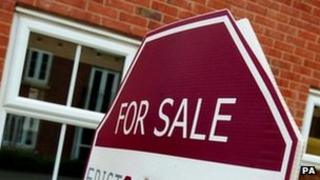 The gap between what Scots hope to sell their properties for and the price they actually achieve has narrowed, according to a new report.
Property website S1homes found the "reality gap" narrowed in Scotland from 9% to 2% in the third quarter.
The change was driven by an increase in the amount buyers were prepared to pay, and not a drop in prices.
The S1homes report compared average asking prices with officially-registered settlement prices.
It found that the average selling price in Scotland increased by more than £8,500 to £161,748 in the third quarter, while, on average, properties sold for about £4,000 less than their asking price. The difference in the previous quarter was £14,500.
However, there were significant variations between the top and bottom of the market, with all property types except detached homes achieving more than the asking price.
Flats continued to perform well across Scotland, selling on average more than 17%, or £19,000, above their advertised price.
Terraced and semi-detached houses also sold well above what sellers hoped to achieve.
But detached properties continued to sell significantly below their asking price despite an increase in the average selling price during the quarter.
The average asking price for properties fell in most areas, except for East Renfrewshire, Fife and West Lothian.
In Edinburgh, the average selling price overtook the advertised price, due to an increase of 4.5% in the amount homes were sold for.
S1homes commercial director Ewan Stark said: "This quarter's report shows that there have been significant changes taking place in the property market.
"Buyers are now prepared to pay more than they have been for quite some time and that, coupled with a slight decline in average asking prices, is what has led to the upsurge in the volume of properties being sold.
"That's positive if you're looking to sell a property but the sharply rising prices at the lower end of the market aren't good news for first-time buyers."