PwC survey: Scottish legal sector facing further mergers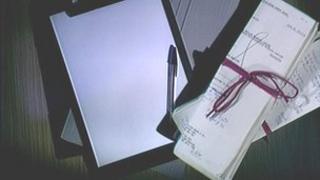 Scotland's legal sector could see further mergers as continued pressure on profitability restricts firms' growth, according to a new report.
A PwC survey found some Scottish law firms could be well placed to take advantage of any economic upturn.
But it warned pricing and cost-cutting pressures had taken such a toll on other firms that their medium-term survival was at risk.
PwC said it had been a "watershed year" for the legal sector in Scotland.
It added that merger activity and restructures were consolidating and polarising the market - from those firms that were growing, and those that were struggling to survive.
A number of major firms surveyed thought it was "fairly likely" they would merge in the next three years.
'Challenging backdrop'
Mike McCusker, a partner in PwC's Law Firms Advisory Group, said: "Against a challenging backdrop, 2013 could be seen as a turning point for the legal sector as certain firms remain resilient and grow, while others continue to struggle, with the gap between best and worst performing widening further.
"The legal sector in both the Scottish and wider UK context has come under increased scrutiny from banks and regulators following a number of well-publicised law firm insolvencies, mergers and acquisitions.
"This trend is set to continue with further consolidation of the market very likely."
However, the PwC survey found Scottish firms remained optimistic, with 40% very confident they were on track to see revenue growth this year, compared with just 20% in the Midlands and 26% in London.
The trend in falling net profit margins was a major concern for smaller, regional law firms which took part in the survey.
Mr McCusker said: "In Scotland, firms have been responding to the market challenges in a number of ways, such as improving partner and business performance and simplifying service delivery to clients.
"However, continued focus on cost reduction and innovative delivery is required to maintain profitability in a highly competitive market.
"At the same time, we expect many firms to look carefully at their strategy, focusing on whether they should maintain a sustainable presence in each distinct line of legal service, or specialise in more profitable and distinctive areas of legal expertise.
"Looking ahead and despite some encouraging signs of a pick-up in activity, it is clear firms remain concerned about continued economic uncertainty and the changing needs and behaviours of clients."
Mr McCusker added: "Some clear winners and losers will emerge over the next few years as all firms strive to take market share from their rivals."
Scotland has seen a number of legal mergers in the past two years.
In February, Morton Fraser and Macdonalds Solicitors merged, months after commercial law firms Burness and Paull and Williamsons announced they would join forces. Edinburgh-based Archibald Campbell and Harley also merged with English legal firm Shoosmiths.