Shetland helicopter crash: No 'causal technical failure' yet found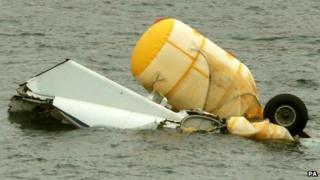 No evidence of a "causal technical failure" for the Shetland Super Puma tragedy has been found so far, investigators have said.
Four people died when the helicopter crashed on 23 August.
The Air Accidents Investigation Branch (AAIB) said the investigation was ongoing.
The Super Puma AS332 L2 went down close to shore on a flight to Sumburgh from the Borgsten Dolphin rig.
The special AAIB bulletin reports the CHC-operated helicopter's engines were both "delivering power until impact" with the sea.
'Isolated event'
It says the aircraft had lost speed and altitude.
Duncan Trapp, vice president of safety and quality at CHC Helicopter, said of the update: "It confirms that the available information continues to indicate that this tragic accident was an isolated event and no technical failure has been identified.
"Our thoughts remain with the loved ones of those lost in the accident and with the passengers and crew."
The Unite union's Scottish secretary Pat Rafferty said the AAIB report had done nothing to restore workers' confidence in the Super Puma fleet.
He said further detail was needed to help explain why four people could not escape the crash with their lives.
And he reiterated union calls to make changes to the helicopters including reducing passenger capacity, seat re-configuration and re-calibrating survival training models.
Sarah Darnley, 45, from Elgin, Gary McCrossan, 59, from Inverness, Duncan Munro, 46, from Bishop Auckland, and George Allison, 57, from Winchester, lost their lives in the incident.