Scottish Sea Farms owners to invest £37m in salmon farms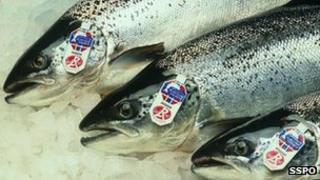 The Norwegian owners of Scottish Sea Farms have announced plans to invest £37m in salmon farming operations in Scotland over the next two years.
Norway-based Salmar and Leroy Seafood Group will spend £12m in freshwater operations.
A further £25m is to be invested in new Scottish Sea Farms sites.
They said the investments would bring an unspecified number of jobs to rural communities in Dumfries, Highlands and Orkney.
Scottish Sea Farms chairman Leif Inge Nordhammer said: "The owners and board of Scottish Sea Farms are committed to growing our production in a sustainable way to satisfy the demands for Scottish salmon in markets around the world and to support the communities where we operate."
The announcement was made as Environment Minister Paul Wheelhouse visited Salmar's farming and processing operations on the island of Froya in Norway.
'Great news'
Mr Wheelhouse commented: "The announcement of this investment in infrastructure and expansion over the next two years is great news for the future of the aquaculture industry in Scotland and for our economy.
"Exports of Scottish salmon continue to grow and demand for product at home and abroad currently outstrips supply, which is a unique position to be in."
Scottish Sea Farms was among 15 major farmed salmon producers to join a new body set up this week to address challenges facing the industry globally.
The Global Salmon Initiative has said it aims to tackle challenges such as biosecurity, feed sourcing and meeting industry standards and achieve "significant and continuous progress in sustainability" within the farmed salmon industry.