Scottish exports pick up by 2.5%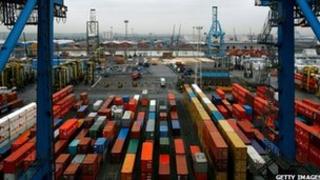 There has been a slight rise in the value of overseas sales from Scotland, according to official figures.
Scottish exports grew by 2.5% between January and March this year compared with the last three months of 2012.
Over the year however, the figures show a small fall of 1.4% in sales of Scottish goods abroad.
There was strong growth in petrochemicals and food and drink companies continued to increase their exports.
Both are Scotland's largest export industries and accounted for 24% and 32% of total international sales in 2011.
Declines were recorded in engineering, textiles, clothing and metals.
Liz Cameron, Chief Executive of Scottish Chambers of Commerce, said: "Business optimism and performance in Scotland has been picking up since the beginning of this year and signs of growth in exporting are extremely encouraging as we seek a return to healthy levels of growth in our economy."
Finance Secretary John Swinney said: "The increase in manufactured export sales during the first quarter of 2013 is another positive piece of evidence that Scotland is on the road to economic recovery.
"These statistics come after last week's GDP figures which showed a 1.2 per cent growth in the economy, and labour market statistics showing Scotland has a higher employment rate, lower unemployment rate and lower inactivity rate than any other nation in the UK."
He added: "This Government is working tirelessly to secure jobs and investment, and to retain Scotland's position as the best place to do business."
Optimism
Meanwhile a survey for CBI Scotland has found that optimism among manufacturers has turned positive for the first time since October last year.
CBI's latest Scottish Industrial Survey found that volume and deliveries of exports increased in the three months to July 2013 and the prospects for export orders and output also increased.
However, the volume of total and domestic new orders has fallen for more than a year, although companies expect modest growth to resume over the coming three months.
The Director of CBI Scotland, Mr Iain McMillan, said: "These results show increased optimism and a continuing trend of exports from Scotland performing fairly well.
"However, manufacturing industry in Scotland still faces a difficult economic environment in home markets, although the survey suggests that the situation may be improving."
He added: "The UK and Scottish governments need to put growth at the very heart of their agendas and ensure that all areas of government are properly aligned towards achieving this overarching objective."