Tomatin Distillery secures green bank investment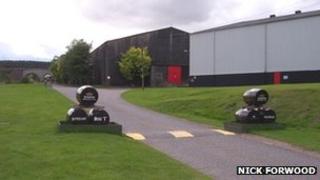 A distillery has become the first Scotland-based business to secure investment from the UK Green Investment Bank (GIB).
Tomatin Distillery, near Inverness, is to build a new biomass boiler after securing £1.2m in funding.
About half the cash is being provided by an Equitix-managed fund, in which GIB has a stake, with the rest from the Equitix Energy Efficiency Fund (EEEF).
The investment is in partnership with wood pellet biomass producer Balcas.
The new boiler will replace 80% of the heat load usually generated by the distillery's oil-fired boiler.
GIB said the move could cut CO2 emissions from the distillery by more than 96,500 tonnes over the 20 years of the investment.
UK Green Investment Bank chief executive Shaun Kingsbury said: "I am pleased to be able to announce our first Scottish investment.
"As well as significant emission reductions, the project will provide a boost to the local economy.
"We have a strong pipeline of investments in Scotland and hope to be able to announce further investments in Scottish distilleries, as well as other projects, very soon."
'Perfect blend'
Business Secretary Vince Cable added: "The whisky distillery has always used a perfect blend of innovation and tradition. Today's investment from the Green Investment Bank, funded by the UK government, will continue this proud tradition.
"By funding a new biomass boiler, we are helping Tomatin to become more energy efficient and high-tech.
"This money will also help secure local jobs and support the local supply chain."
The Tomatin Distillery, which was established in 1897, produces a range of single malts and blended whiskies, including The Antiquary and The Talisman.
The distillery is owned by Japanese company Takara Shuzo.