Pumps firm Clyde Union sees losses narrow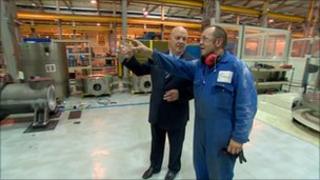 Pumps specialist Clyde Union Ltd has seen its losses narrow in its first full year under the ownership of US engineering firm SPX Corporation.
The Glasgow-based company reported a loss of £7.4m in the year to the end of December, down from £11.7m in 2011.
The loss was recorded despite revenues rising by 14% to £126.7m.
Clyde Union is part of the ClydeUnion Pumps group, which was sold by Scottish entrepreneur Jim McColl to SPX in December 2011.
In accounts filed with Companies House, Clyde Union said its performance in 2011 and 2012 had been affected by "poor outcomes" from several contracts in new and developing markets.
The company last year overhauled its contract processes and carried out a restructuring exercise to "drive operating improvements".
Clyde Union, which is part of SPX's flow technology business, said it believed it had a "positive" medium term outlook.
Last year the firm employed an average of 870 people, down from just over 900 in 2011.
In June, SPX announced plans to make 160 staff redundant from its ClydeUnion Pumps plant in Cathcart, Glasgow.
The move came a year after about 90 jobs were shed from the engineering firm as part of a restructuring drive.