'Marked rise' in Scottish salaries, bank survey finds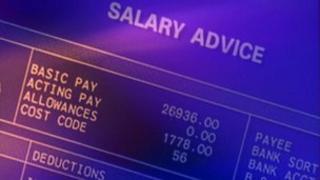 Average pay in Scotland rose at its fastest pace for almost six years last month, according to a survey of recruitment consultants.
The Bank of Scotland Report on Jobs found both permanent and temporary job salaries increased at a much faster rate than the UK average.
The survey also indicated a marked improvement in the labour market.
It found staff placements continued to rise on the back of strong permanent and temporary vacancy growth.
The bank's chief economist said the survey results signalled "a further strengthening of the recovery in the Scottish economy".
It follows a separate report released by the bank last week, which found Scottish firms reporting the fastest rise in business activity since May 2007.
The Bank of Scotland's PMI report for June suggested marked increases in new work, leading firms to hire more staff.
Staff demand
The bank's latest report saw its "Labour Market Barometer" rise to its highest level since October 2007.
In June it stood at 58.5, up sharply from May's 54.7. Any number above 50 indicates improvement.
Demand for permanent staff increased markedly in June, with the rate of growth the fastest since April of last year.
There was also greater demand for temporary and contract staff, with the rate of growth the strongest since September 2011.
All eight of the survey's employment sectors posted a larger number of permanent job vacancies in June.
The IT & Computing sector saw the strongest rise, while the weakest was recorded for blue collar.
Candidate availability
Meanwhile, the availability of permanent staff deteriorated further in June, with the latest decline the strongest to date this year.
Temp candidate numbers similarly fell from May, and at the sharpest rate since October 2007.
Bank of Scotland chief economist Donald MacRae said: "Both the number of people appointed to permanent and temporary jobs rose in the month accompanied by sharp rises in vacancies.
"Improvements in job market conditions were spread across all sectors.
"These results signal a further strengthening of the recovery in the Scottish economy and bode well for employment throughout 2013."
The Bank of Scotland survey is based on information provided by a panel of 105 recruitment and employment consultancies operating in Scotland.
A recent report by business advisors PwC suggested Scotland could outperform the UK's other devolved nations in terms of creating new jobs over the next five years.
PwC said Scotland could see a net jobs increase of 61,000 by 2018 if the "tentative" economic recovery is uninterrupted.
But it warned many of those could be part-time, temporary and lower paid.
Last month, official figures showed unemployment in Scotland fell for the seventh time in a row between February and April, to stand at 194,000.