'Reinvent the high streets', urges Colliers International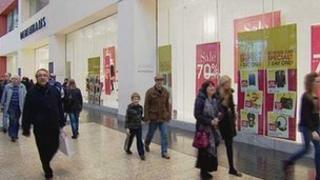 Scotland's high streets are at a critical stage and need to be reinvented, a report has claimed.
Property firm Colliers International said a more flexible approach to planning was needed to give people a reason to return to their town centres.
It urged authorities to support a wider range of uses for shops in a bid to breathe new life into the high street.
It also called on high street retailers to "step up their game" to compete with large shopping malls.
Tom Johnston, director and head of retail with Colliers north of the border, said: "The next few years will determine the future of our high streets and we urgently need to create the right environment, which will allow these areas to find their new place in the community.
"For too long we've taken the heart out of these communities and as offices, schools, local government and retailers have dispersed, people no longer have a reason to come back.
"By providing a framework conducive to the rebuilding of the hearts of our communities, we can create affordable housing, family homes, leisure facilities, retail and other core services, such as medical and dental practices, that will create this momentum.
"However, this can only be achieved through a level-headed review of recent damaging changes to non-domestic rates policy, alongside a more flexible approach to planning."
'Innovative ideas'
Mr Johnston added: "Without such moves and other innovative ideas, such as free parking weekends and compulsory purchase orders to kick-start such regeneration, we're unlikely to see any significant inroads being made to restore our town centres."
The report, however, contained a number of positives.
Looking at what is in store for UK retailers, it predicted a fall in the number of empty shops, from current levels of 12% of total floor space to about 7% by 2020.
Colliers also forecast a "new wave" of retail development, beginning in less than five years' time, although it is expected to be largely focused on major retail centres.