Scottish house prices lag most of UK, says Nationwide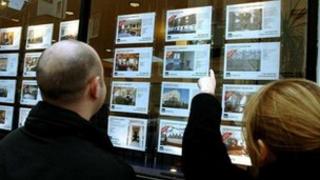 Scotland was one of only three areas in the UK to see house prices drop over the past year, according to figures released by the Nationwide building society.
The average price of a Scottish home in the second quarter was £134,611 - 1.2% down on the same period last year.
Northern Ireland and Yorkshire and Humberside were the only other area to register a fall.
In contrast, London prices were up by 5.2% year-on-year.
The Nationwide figures were broken up into a total of 13 "regions", which include the four home nations and nine English regions.
In Scotland, Perthshire and Stirling was the best performing area, with prices up 5% on the previous year.
Southern Scotland - which includes Ayrshire, the Borders and Dumfries & Galloway - was the worst performing, with a 6% year-on-year fall.
Although prices fell on an annual basis, Scotland saw a 1.4% seasonally-adjusted price rise in the second quarter of the year.
Among the home nations, England has been outperforming the rest of the UK for some time.
House prices in England are currently 5% lower than their 2007 peak, while they are 12% lower in Scotland, 13% lower in Wales and 53% lower in Northern Ireland.