Hospital IT firm Craneware issues profits warning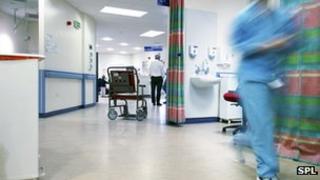 Healthcare IT firm Craneware has warned its full-year results will be below market expectations after several major US sales deals failed to materialise.
The Edinburgh-based billings specialist said it continued to see rising sales activity at smaller US hospitals in the year to the end of June.
But it warned it had not been been possible to close a "significant number" of large sales opportunities.
Craneware said the chances of closing them in this financial year were low.
It blamed "high levels of corporate activity" in the sector.
The company, which counts a quarter of all US hospitals as customers, now expects to report revenue for 2012-13 of about £27m and a pre-tax profit in the region of £8m.
Both are in line with or marginally ahead of the previous year but are below current market expectations.
'Historical success'
In a trading update, Craneware said: "Our historical success in large hospital networks and other 'routes to market' confirms the demand for our product set in this significant sector of the market.
"However, these sales are more complex and involve a much longer sales cycle which is inevitably harder to predict, particularly when further complicated by current high levels of corporate activity in this segment.
The company said it would dedicate more resources on large hospital networks and other sectors in order to achieve revenue growth "on a more predictable basis".
Craneware chief executive Keith Neilson added: "The success we have seen in our investment in sales is not fully reflected in these results due to the large deals we have in the pipeline not closing during this year.
"Although we believe we have been hampered in our efforts to close these deals by corporate activity within our customer base, this trend of consolidation will not ease.
"We will therefore continue to build our focused team dedicated to servicing these organisations which we believe will provide us with better predictability and ultimately a greater success in closing these deals in the future."
Founded in 1999, Craneware has headquarters in Edinburgh, with offices in Atlanta, Arizona, Massachusetts and Tennessee employing more than 200 staff.