Stagecoach drives forward sales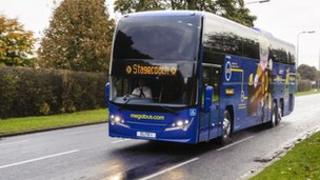 Perth-based Stagecoach Group has reported a rise in sales driven by its regional bus business and operations in the US.
Full-year pre-tax profit fell to £195.8m from £239.8m a year earlier while revenue increased to £2.8bn from £2.6bn.
Across its divisions, revenue at its US operations jumped 28.8% to £641.2m.
Its regional bus operation which it described it as the "cornerstone" of the group rose 6.3% to £966.7m.
UK rail rose 5.3% to £1.2bn.
Chief executive, Martin Griffiths, said: "Stagecoach has secured a leading position in a range of growing markets in the UK and North America.
"Our innovation can deliver further growth in the commercial, deregulated bus market."
The company said that it was helping the UK Government to deliver a "new, improved rail franchise model" and said it was shortlisted for two rail franchises.
Scottish rival FirstGroup initially won the contract to run the West Coast rail franchise, with Stagecoach's joint bid with Virgin losing out.
However the decision was scrapped because of "technical flaws" in the bidding process.
Stagecoach along with Virgin now have an extension to the original franchise until 2017.