Scottish jeweller Rox to expand into England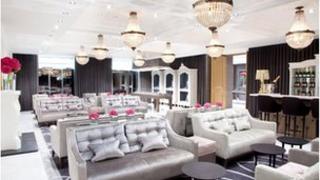 Scottish luxury jeweller Rox is set to venture south of the border for the first time.
The company has announced plans to invest £2m in new stores in Leeds and Newcastle later this year.
The shops will be designed by Glasgow-based firm Graven Images, following its work on Rox's premises in the Argyll Arcade in Glasgow and the Assembly Rooms in Edinburgh.
The company said the move was part of UK-wide expansion plans.
The new stores, at Trinity Leeds and Monument Mall in Newcastle, are due to open in October ahead of the Christmas trading period.
Rox managing director Kyron Keogh said: "Expansion into England has been on our radar for some time now.
"We have been waiting to find the perfect location and it just so happened that two great opportunities came up in Leeds and Newcastle simultaneously."
Rox was founded in 2002 by entrepreneurs Kyron Keogh and Grant Mitchell.
It now has stores at Braehead, the Argyll Arcade and Silverburn in Glasgow, the Assembly Rooms in Edinburgh and Union Square in Aberdeen.