Stobart Group reports profits fall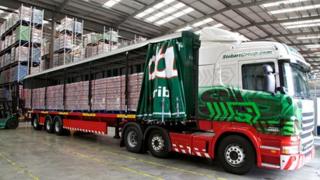 Logistics specialist Stobart Group has reported a fall in overall profit, after taking a financial hit from its loss-making chilled pallet network.
In the year to the end of February, the company saw underlying operating profits from continuing operations climb by about 10% to £44.9m.
But the figure excluded a £13.4m loss from its chilled pallet network, which was shut down during the year.
The hit dragged overall profit down from £27.5m to £17.5m.
Describing the last financial year as "pivotal", Stobart said it was on track with a four-year strategy, launched in 2011, to create shareholder value.
Group revenue from continuing operations rose last year by more than 16% to reach £572.4m.
The company achieved a 26% return on investment in its estates division, while new long-term supply contracts for its biomass operations got under way, with future revenue of more than £140m.
'Turbulent year'
Chief executive Andrew Tinkler said: "Despite a turbulent year and a tough economic environment, our continuing operating businesses have produced a profit from continuing operations 10% up on last year and have again given us a good return on investment.
"We are now at a pivotal point in our four-year plan and, with our investment programme nearly complete, we are moving into our value optimisation phase."
He added: "Through our property assets we will be looking to return cash into the business, while our Air and Biomass businesses are poised to deliver further value enhancement."
The Carlisle-based group runs about 2,200 Eddie Stobart trucks on the road throughout the UK.
Last year it established a new distribution facility at Eurocentral business park in Lanarkshire.