Scottish jobless total falls again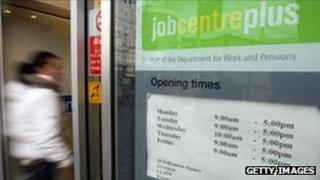 Unemployment in Scotland has remained below 200,000 for the second time in a row, after a further fall in the total.
The number of jobless fell by 7,000 between January and March to stand at 199,000, according to Office for National Statistics (ONS) data.
The fall contrasted with figures for the UK as a whole, which saw unemployment rise by 15,000 to 2.52 million.
The Scottish jobless rate is now 7.3%, which is below the UK average of 7.8%.
Employment in Scotland rose by 54,000 over the three months to stand at 2,517,000.
The Scottish government said it was the largest quarterly increase in employment on record.
The number of people claiming Job Seeker's Allowance (JSA) increased by 100 from March to reach 136,800.
'Measures working'
Scottish Secretary Michael Moore said the latest labour market figures for Scotland were "another welcome step in the right direction".
"This shows that the measures we are taking on the economy are working," he commented.
"However, there is still a long way to go and unemployment remains a huge concern for families and individuals in Scotland.
"It is therefore important that we maintain our economic strategy, working together with all partners to ensure that unemployment continues to fall."
Welcoming the figures, First Minister Alex Salmond said: "Scotland is outperforming the UK with a higher employment rate and lower unemployment rate.
"And our youth employment rate is continuing to make encouraging progress, with more young people in work and youth unemployment falling again."
'Clear course'
Mr Salmond added: "The Scottish government, our agencies and employers across Scotland have set a clear course for recovery.
"We are working hard to get people back into work and to create opportunities for our young people."
Scottish Labour's finance spokesman Ken Macintosh said the headline fall in unemployment was welcome, but far from the whole story.
He said: "Yet again we are seeing huge annual rises in levels of long-term unemployment - a more than doubling of those claiming Job Seeker's Allowance for over two years and a 300% rise in young people claiming for more than two years.
"It is also very worrying that many of the jobs being created are part-time and temporary - the fall of 13,000 in full time work over the past year and rise of 6,000 in temporary workers shows that people are underemployed and struggling to find permanent employment.
"This is a picture of stagnation in the labour market rather than progress and it demands a level of intervention from both governments that is simply not happening."
'Very welcome'
CBI Scotland senior policy executive Lauren Paterson described the latest figures as "very welcome indeed".
She added: "Despite the challenging economic times, the Scottish labour market is showing resilience, with jobs being created and fewer people unemployed.
"The latter figure especially indicates that the private sector is gradually regaining the confidence to hire, and all parties must do their utmost to ensure that this trend continues."
The Federation of Small Businesses (FSB) in Scotland also welcomed the latest jobless figures.
Scottish policy convenor Andy Willox said: "Falling Scottish unemployment is good news, not only for the individuals and families now receiving a regular pay packet, but for the local economies where these wages will be spent.
"By supporting and developing our small business community, we can ensure that this trend continues."
'Encouraging'
The Scottish Trades Union Congress (STUC) said it was another encouraging set of labour market statistics for Scotland but added that it was essential that "no one gets carried away".
General Secretary Grahame Smith said: "While Scotland's performance over the quarter may be spectacularly good compared to the UK as a whole, it is much less so when performance over the past year is considered.
"This might be the sixth consecutive fall reported by ONS but unemployment in Scotland has fallen by only 5,000 over this period and actually increased by 2,000 on the figure reported last month."