Tennent's 'impresses' Irish owner C&C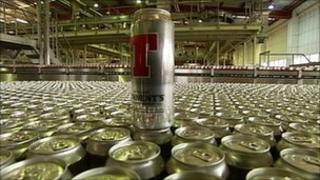 The Irish firm which owns Tennent's has said the brand continues to impress, despite a fall in sales volumes.
In its full-year results, C&C Group reported a 5.9% drop in Tennent's sales, although net revenue for the brand rose by 6.8% to £91m.
Dublin-based C&C, whose brands include ciders Bulmers and Magners, said that Tennent's was in "good health in all its territories".
Total group operating profit was up 2.4% to £96m.
C&C said its core cider market remained "challenging" and described Magners' volumes for the year as "disappointing".
The company said pricing pressure on the core cider brands was offset by a 12.7% improvement in "achieved pricing for Tennent's in the UK".
C&C said this step was negotiated by Tennent's previous owners and applied to supermarket contracts. A spokesman added that prices in pubs had been frozen for three years.
C&C Group chief executive Stephen Glancey said: "While it has not been an easy year for our core cider brands, with poor weather and increased competition, particularly in the UK, the second half did bring some trading stability in Ireland.
"We have had an excellent contribution from the Tennent's brand both in domestic and international markets, providing some balance to the increased competition within UK cider."