Cold weather and early Easter 'double whammy' for shop sales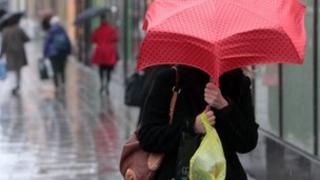 Scottish shops were hit by a "double whammy of factors" which reduced sales last month, retail leaders have said.
Sales on the high street were down 2.1% in April, according to the latest Scottish Retail Consortium (SRC) figures.
Like-for-like sales, which leave out factors such as new store openings, fell by 3%.
The SRC said the cold weather and an early Easter were to blame for the decline.
Food sales saw their biggest fall since January 1999 but retailers insisted this was essentially due to the timing of Easter.
Consumer confidence
Fiona Moriarty, director of the Scottish Retail Consortium, said: "A double whammy of factors beyond retailers' control are the main causes behind what looks like a very disappointing set of results at first glance.
"The cold and unseasonal weather outstayed its welcome longer than other parts of the UK, so demand remained cool for spring and summer ranges, especially in the clothing and footwear category.
"And the timing of Easter weakens the figures further. It fell in March this year but April the previous year, meaning that many categories suffered against a strong 2012 comparative, particularly food."
The latest figures, from the SRC/KPMG retail sales monitor, showed total food sales were down 1.4% on 12 months ago, with like-for-like food sales down 2.7%.
Sales of non-food items fell 2.7% and like-for-like non-food sales fell 3.3%.
Ms Moriarty added: "If you strip out the Easter distortions, April sales growth was actually a slight improvement on March, and the overall three-month average is still marginally up on the same period in 2012.
"The figures don't yet reflect it, but we're seeing very tentative signs that the mood is starting to lift, especially consumer confidence which has crept above the UK average for the first time since September."
April figures show increased sales of clothing and footwear compared with March, but not as much as in the rest of the UK which benefited from a sunnier end to the month.
The weather also affected sales of footwear, with boots still selling and weak demand for sandals.
Additional sales were generated by Royal Mail's increase in the price of stamps at the end of April, as people stocked up before the higher charges came in.
Meanwhile in the health and beauty sector, the cold weather meant April was another good month for medicine sales.
Looking ahead, David McCorquodale, head of retail at KPMG, said: "Now that we're into May, retailers will be looking skyward in the hope the wetter weather stops and sales prospects of summer fashions and gardening products improve."