Faroe herring sanctions welcomed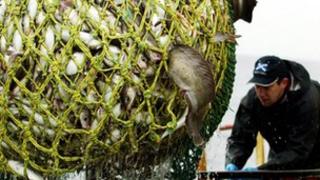 European Commission sanctions on Faroe to help conserve Atlantic herring stocks have been welcomed by Scotland's government and fishing industry.
The measures could stop the import of herring into the EU from Faroe and prevent Faroese herring boats landing.
The commission is also preparing legal advice on similar sanctions for mackerel on both Iceland and Faroe.
Faroe withdrew from talks over internationally-agreed herring quotas in January.
Instead it set its own unilateral quota.
Sanctions against Faroe were agreed at the EU Fishing Council in Brussels, where the action was discussed after a request by Scotland's Fishing Minister Richard Lochhead.
Speaking after the meeting, Mr Lochhead said: "It is good news that at long last we have real movement towards sanctions that will see the irresponsible fishing of Faroe punished.
"The sanctions discussed today will stop the sale of unsustainably caught herring in EU markets as well as stopping EU boats fishing for herring unsustainably under the Faroese flag. This should help reduce the damage inflicted to date on our fish stocks.
"Our fishermen fully deserve the protection these sanctions will give them. But it is disappointing that no firm action has yet been agreed in relation to Iceland and Faroe consistent over fishing mackerel, and I hope that will come shortly."
The minister said he hoped the action on herring would persuade Faroe and Iceland to get back round the table - with an international mediator if necessary - and agree a long-term deal to ensure future protection of stocks and the future viability of Scotland's fishing fleet.
'Urgent meeting'
Ian Gatt, chief executive of the Scottish Pelagic Fishermen's Association, welcomed what he called a "first step" towards delivering sanctions against Faroe for its over-fishing of herring.
He added: "We believe that any sanctions brought against Faroe for the over-fishing of the Atlanto-Scandian herring stock should also apply to mackerel because they catch both species together in what is essentially a mixed fishery.
"We are disappointed there has been no significant further movement with regards to implementing sanctions against both Iceland and the Faroes for their over-catching of mackerel.
"In the case of Iceland, we urge the EC to seek an urgent meeting with the new Icelandic government to try and get the negotiating process moving again.
"If this does not happen, then sanctions must immediately be implemented as a matter of course because every other avenue will have been reasonably explored without there being any breakthrough in resolving this dispute."