Building Federation: Job losses since 2008 'staggering'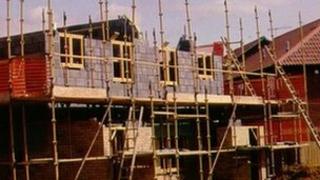 Construction firms are urging the Scottish and UK governments to help rebuild capacity, after new figures showed a big fall in employment in the industry.
Scotland's latest Annual Population Survey showed the construction sector shed a further 14,500 jobs last year.
Total employment within the Scottish industry now stands at 172,700.
The Scottish Building Federation (SBF) described industry job losses over the past five years as "staggering".
It added that 62,500 jobs had been lost in the sector over that period.
The federation is writing to Scottish and UK government ministers to urge them to take continued action to rebuild industry capacity.
It said steps must include tax measures, such as cutting VAT on building repairs and maintenance to stimulate industry activity, and "more focused support" to help building companies recruit and retain apprentices.
SBF executive director Michael Levack said: "We already know about the tough times building firms are currently experiencing.
"But these figures lay bare the huge extent of the damage done to the construction industry by the economic downturn.
"Over the past five years, more jobs have been lost from the building sector than from the Scottish economy as a whole."
He added: "Since 2008, we've lost more than a quarter of our workforce, which is nothing short of staggering."